Home & School 
Our Home & School Committee and activities have temporarily been suspended due to the restrictions put in place during COVID.  In previous years, CAA has been blessed to have an active Home & School Committee that works to "unite the home, school, and the church in their endeavours to provide Seventh-day Adventist Christian education."  We look forward to the future when our Home & School can be active within our school again.
Parents are an important part of a student's educational experience. At CAA, we recognize parents' roles and appreciate your support.
---
Fall Fair Fundraiser Is A Success!
The Fall Fair Fundraiser was a wonderful evening of fun, great food, and amazing crafts and treats! 
The CAA gym was filled with amazing aroma including freshly made crepes, samosas, and many other delicious snacks.  Children (of all ages) had a blast jumping on the huge bouncy castle (supporting Mrs. Madden's classroom) and playing retro video games (fundraising for CAA grade 9 graduation).  The CAA Student Association sold popcorn and held a raffle for a Tim's card raising money for more fun events for the students of Coralwood.  Many talented local creators were also present selling jams, quilted items, and so much more.
The Home and School Committee should be commended for their hard work putting together this successful event in support of CAA.  Thank you to all the vendors who shared their work and talents, and a very special thank you to all of the attendees: families, friends and neighbours of Coralwood Adventist Academy.
--L. MacDonald, CAA parent
A special thank you to Burman University for supplying the pizza for this event!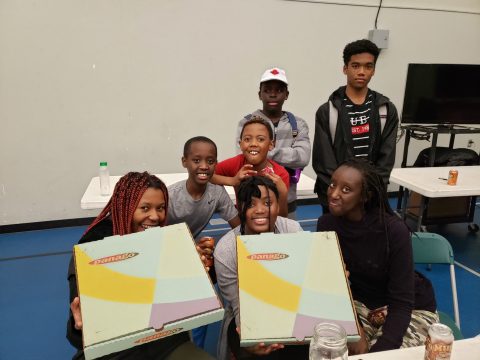 THANK YOU!
Sock-tober was a great success with over 600 pairs of socks donated at CAA for shelters around the city!
---